Lumenier Pagoda 2 5.8GHz Antenna (RHCP)
Details
The Lumenier Pagoda 2 Antenna is an omni-directional circularly polarized 5.8GHz FPV antenna with great performance and small in size. The Pagoda 2 Antenna was designed by Maarten Baert and manufactured by Lumenier under the Creative Commons License. 
This antenna's simplified manufacturing process keeps costs low allowing for a great low price for an antenna with high performance.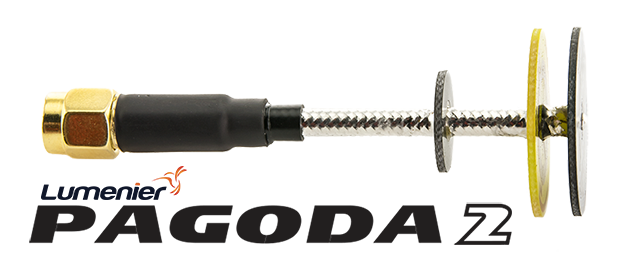 More information on the Pagoda 2 Antenna design can be found here.
Specifications
Gain: ~2dbic
Axial ratio: < 1.3
Bandwidth: 5.5GHz-6.05GHz
Radiation Efficiency: 95%
SWR: S11 < -20 dB, VSWR < 1.22 (at center frequency)
Weight: 8g
Size: 65mm x 22.5mm
Cable: Semi-rigid RG402
Connector: SMA (crimp shield + heat shrink)
Works great as both a transmitting or receiving antenna
Compatible with other styles of 5.8GHz RHCP antennas
Polarization
Right Hand Circular (RHCP)
Includes
1x Lumenier Pagoda 2 5.8GHz Antenna (RHCP)
Antenna design by Maarten Baert
---
We Also Recommend
---